For the longest time scientists, artists, architects and engineers have speculated on what the future would look like. Movies have even taken various stabs at putting forth a picture yet in various corners of the world, measures have been taken to develop and create cities that will apply new technologies to uphold a sustainable and enduring environment for tomorrow. Below is a list of cities that have taken outstanding measures to apply innovation and emerging technologies as they adapt to the shifting dynamics of the world today:
1. Masdar City, Abu Dhabi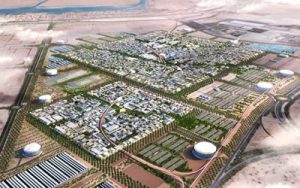 Home to 8% of proven global crude oil reserves, Abu Dhabi has committed about 20 billion dollars into developing a high tech, low carbon, sustainable city; establishing Abu Dhabi as a global center in renewable energy and clean technologies.
Masdar City is an emerging global hub modeled for sustainable urban development regionally and globally, seeking to deliver the highest quality living and working environment with the lowest possible ecological footprint.
With no cars running on fossil fuel to pollute the area, the city is set to become a pedestrian-friendly city. Currently there are driverless Personal Rapid Transit system vehicles and the 100% electric vehicles. The water and energy conservation system is developed in such a way that water consumption is reduced by 54 per cent and energy consumption by 56 per cent. Solar panels crown most buildings, providing 30 per cent of the current 2-3 megawatts energy demand. The rest is covered by the ten MW photovoltaic plant situated nearby.
Cutting-edge cleantech research and development, pilot projects, technology testing, and construction on some of the world's most sustainable buildings are all ongoing. Furthermore, Masdar City serves as an open technology platform that gives partner companies an opportunity to develop, test and validate their technologies in a large scale, real-world environment.
Initially set to be completed by 2016, the deadline has now been pushed by at least ten years. Once completed, it will accommodate approximately 1,500 businesses and 40,000 residents. The first residents are the Masdar Institute of Science and Technology (an offshoot of MIT) students and staff who use the campus as their innovation playground, testing and developing a variety of technologies. The United Nations has already decided to house the headquarters of International Renewable Energy Agency (IRENA) within the city.
With cities responsible for more than 80 per cent of global carbon emissions, Masdar City will play a key role in reduction of demand for energy and water through the technologies and practices being implemented.
2. Tianjin Eco City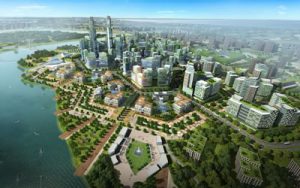 Expected to be fully operational by 2020, the Tianjin Eco City is the 2nd flagship Government-to-Government project between Singapore and China after Suzhou Industrial Park.
The $22 billion city will serve as a model of sustainable development and green innovation around the developing world. It is expected to be home to about 350,000 people.
The city's site was situated on non-arable land comprising mainly of saltpans, barren land and polluted water-bodies. Tianjin Eco City is now marked to introduce sustainable solutions that address the many challenges of high density urban living.
Showcasing some of the best energy-saving technologies, the city will have an advanced light rail transit system and varied eco-landscapes. Emphasis on green transport is a key feature as well. Non-motorized and motorized networks will be separated to minimise conflict between pedestrians, cyclists and vehicles. Organic waste usage is expected to produce heat and power, with 60 per cent of the city's waste being recycled. All building developments are expected to meet the green building standards and a wetland will be created to provide natural treatment for recycled wastewater.
The Eco-city will comprise extensive green (vegetation) and blue (water) networks in mind to provide an endearing living and working environment. Power and water consumption management combined with clean and renewable electricity generation to limit carbon emissions.
3. Sino Singapore Guanghzou Knowledge City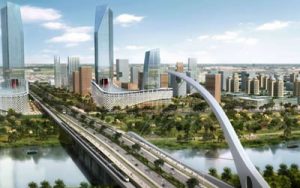 Positioned as a model and catalyst for the economic transformation and environmental enhancement of Guangdong, the Sino Singapore Guanghzou Knowledge city is set to attract both talent and knowledge-based industries. It will build on creating innovations, new ventures and high value-added products and services; as well as a sustainable, low-carbon city.
Six pillar industries have been identified for development for the city: Information & Communication Technology; Biotechnology & Pharmaceuticals; Clean Technology; Next Generation Materials; Creative Industries; Science & Education services.
Development plans include the integration of hi-tech business parks, residential, commercial and public amenities; as well as green connectors and water bodies through the entire city. Guangzhou and Hong Kong will complete a rail link in which will reduce commuting time between the two cities to one hour. It now takes one hour and 45 minutes by train between Guangzhou and Hong Kong.
The Sino Singapore Guanghzou Knowledge City is a test bed for new ideas and technologies and has already placed four Strategic Initiatives: Smart City, Eco City, Learning City and Design City. All four will be complemented by Software Collaboration projects and programs. Some global companies such as Siemens, ABB, Philips, Hitachi, Walt Disney and Procter & Gamble have already expressed interest investing in the city.
The city aims to have 500,000 residents by 2030, comprising both local and foreign talent.
4. Rio De Janeiro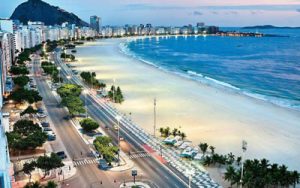 Rio De Janeiro has invested in smarter technologies and improved infrastructure to transform its systems and improve the lives of its inhabitants.
Rio de Janeiro is working with IBM to coordinate its city services in real time and adding new capabilities to further improve the city's emergency response system. The model uses information and communication technology to improve economic efficiency.
Services are carried out through the IBM Intelligent Operations Center that is able to anticipate heavy rains, flash floods, landslides, power outages, and traffic hazards. It serves as the nerve center for the city, applying analytical models to effectively predict and coordinate reaction to emergency incidents. Residents are able to download apps to track city alerts, calculate the most efficient route to use in case of traffic jams and monitor emergency responses. They are also able to access daily data feeds from the Operation Center's profile on Facebook and Twitter regarding updates on weather and traffic, as well as recommended alternative routes around the city on days of special events including concerts, soccer matches and festivals.
Furthermore, the software giant, Microsoft has announced plans on creating a technology hub within the city. It will invest $100 million on a research center, the first of its kind in Latin America, that will house an accelerator for business startups and a local operations center for the company's Bing search engine.
General Electric has also set up the Brazil Technology Center within Rio which will develop technologies to enable the utilization of biomass as a source of energy as well as advance automation solutions for the oil & gas, electric energy, transportation, and aviation industries.
5. Santander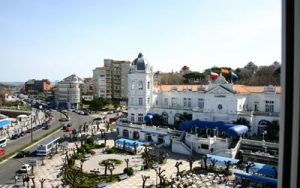 Santander, an old port city on Spain's coast has surged to the forefront of one of the best developing smart cities globally. Set to be a living experimental laboratory, the city has drawn wide attention from organizations such as Google, Microsoft and IBM. It promises to be a unique, experimental research facility that will stimulate development of new applications and services. Furthermore, the project will deploy 12,000 sensors, exploiting a large variety of technologies.
New forms of city government will be implemented, making administrative processes more transparent. Santander is a digital city, applying technologies to make a more sustainable and cleaner urban environment. The digital system knows exactly where traffic jams are and where the air is bad. Noise and ozone maps show what parts of the city are exceeding EU limits. Every single bus transmits its position, mileage and speed, as well as data from its environment. Garbage collectors will eventually be able to avoid making unnecessary trips, because sensors will inform them beforehand which garbage containers need emptying.
Santander will offer its inhabitants healthcare services over a phone or mobile device. Members of the public will be able to make private medical appointments in less than 40 seconds from their smartphone or tablet, with no phone calls and no waiting. The solution also includes information on the pharmacies in the city plus up-to-date information on out-of-hours opening for every day of the week.
Plans to create a digital equivalent of a village square are underway. An app "Ideas for All" (something like Facebook but specifically for city residents) will connect the city with its inhabitants.