It is usually nice to receive a gift, especially one that appears well thought-out and applicable. Unfortunately, engineers are quite peculiar and buying relevant gifts for them is still a mysterious undertaking for many. So, given that we understand this misunderstood demographic, we have compiled several articles to help non-engineers in choosing the most ideal gifts for their engineer  wives, husbands, friends etc.  Our Gifts for Engineers series is a passionate attempt at providing guidance to those who might otherwise be clueless when it comes to buying gifts for engineers.
The following are some interesting gadgets that we know engineers would like. These gadget tend to be intellectually engaging and bring our the inner geekiness in engineers.

Cost: $5.25
The mini-microscope is an elegantly designed, high-functioning microscope specifically made for the  iPhone.  This Microscope is pocket-sized for portability and features three built-in LED white lights for added illumination.  According to some reviews, the magnifier in this microscope is similar to a standalone magnifiers and works well in observing  and taking excellent pictures of minuscule particles.

Cost: $149.99
We can all agree that robots are the ultimate geek products.  This futuristic Robosapien has interesting features such as multi-speed walking, running and turning; fast, full function arms with two types of grippers; and 67 pre-programmed functions including pick-up, throw, kick, sweep, dance, rap, and half a dozen kung-fu moves. Robosapien also speaks and has programmable reflexes, up to 84 programmable steps and 4 program modes for advanced operation.

Cost: $88.99
Perhaps the only sitcom engineers actually enjoy watching, The Big Bang Theory revolves around a character type rarely seen on television: The alpha geek. Physicists Leonard  and Sheldon get their lives shaken up when an attractive young woman named Penny moves in to the apartment across from theirs. The key to the show, though, is not that they both fall haplessly in love–Leonard does, but Sheldon remains impermeably aloof and caustic about anything resembling romance or human relationships in general.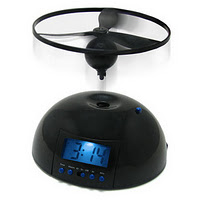 The flying alarm clock is perhaps the best alarm ever created. The idea is simple: there is a detachable helicopter, which when the alarms sounds, flies away from it port. The only way to silence the alarm is to put it back to its port.

From the day we featured this book as one of our 5 Mentally Engaging Books that Engineers would like as Gifts, over 5,000 books have been sold.
The book's author, Samuel Florman provides a captivating philosophical narrative which explains who engineers are, what motivates them, how they derive pleasure in their work, and, most importantly, how their work is connected to the overall progress of civilization and the human race. Whether the reader is a new or  a more experienced engineer, the books provides them them an opportunity to learn and reflect on themselves and their career.
Other Rel

evant Articles

What type of gifts do engineers like?
5 Amazing Gifts for Engineers that will cost you less than $20
5 Mentally Engaging Books that Engineers would like as Gifts
The Best Electronic Gift Ideas for Engineers
5 Incredibly Geeky Gifts for Engineers
Gift Suggestions to inspire the Young Engineer within
6 Wonderful Engineering-Oriented Movies
Magazines That Every Engineer Should Subscribe To