Gift Suggestions to inspire the Young Engineer within
Every weekend, I volunteer as a math tutor at a local high school. It is usually one of the most exhilarating highlights to my week as I am able to have first hand access in molding the engineering future of youngsters. Nothing gives me more joy than being present during the moment when one of my students finally 'gets it'. That is the moment when that the elusive concept about a particular mathematical principle finally makes sense inside the student's head. The look on their face as they light up with a joyous self–believe is surely a moment to behold. I like to call this moment the moment of genius, or Eureka for you Archimedes fans.
Anyway, in a child's life these are the moments which define them, at least academically. Whenever a child is able to understand a once-thought-to-be-complex topic, they increase their confidence and develop a hunger to learn and experience more of the same. From that one experience they can proceed to conquer those impossible feats that they would not have fathomed had it not been for that initial experience. So, it seems obvious that by increasing such opportunities to intellectually challenge them, you effectively enable them to progressively increase their intellectual capacity.
For the young engineer, such daily challenges will only prepare you for a career where solving problems is part of the daily program.  In a world where Playstations seem to have dominated most children's  free time, it has become even more important to provide alternate forms of productive entertainment. The following games and books would appeal to the young engineer within as they provide fun and interactive modes of entertainment. More importantly, they are intellectually engaging.
Books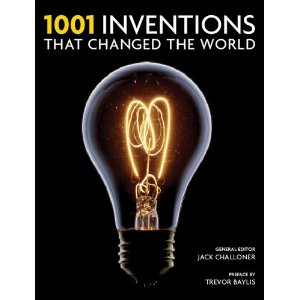 This is a well written book describing various inventions that we take for granted, using them daily and enjoying their benefits.
Why we like this book:
The book does a very good job describing the origins and development of some of the inventions that we use on a daily basis. This absorbing new book tells the stories behind the inventions that have changed the world, with details about–
Convenience items, such as safety pins, toothbrushes, and bifocals
Weapons of war, including explosives, gunpowder, and shrapnel shells
Industrial advances, such as the steam engine and the power loom for weaving
Transportation advances, including the airplane, the diesel engine, the automobile, and the air-inflated rubber tire
Electronic marvels, including color television, the microprocessor, the personal computer, the compact disc, and the cell phone
Medical advances, from antiseptic surgery to the electron microscope. . . and much more.Why we like this book

The book provided fascinating photos and illustrations complement authoritative summaries of each invention, and remarkable quotations from many of the inventors add to this chronicle of human ingenuity that began some 6,000 years ago with the invention of the wheel.
This is a book intended for Grade 5-8. It paints an outstanding collective biography of women and girls who changed the world with their inventions. The author surveys unique and creative ideas that were both borne of necessity or were simply a product of ingenuity and hard work. Included are Bette Nesmith Graham, who invented Liquid Paper, known more commonly as "white-out," and Ann Moore, who emulated the way African mothers carried their babies to create the Snugli. While working for NASA, Jeanne Lee Crews invented the "space bumper" that protects spacecraft and astronauts.
Why we like the book
The last few individuals listed in this book are young girls who utilized their creativity at a fairly young age and become successful.
Toys and Games
Appropriately titled, these LEGO blocks will provide young engineer's with hours endless building fun. The set comprises of 650 pieces of colorful LEGO bricks, is a variaty of colors and shapes. The colors include the following: white, orange, red, blue, yellow, brown, black, dark green, and light green.
Why we like them
The LEGO Bricks & More Builders of Tomorrow Set 6177 are ideal for young people who like using their hand. Given the high number of pieces, the opportunities for design are infinite. Beast of all, the bricks are created in such a way that one has to be creative to continually come up with a more challenging creation.
Additional Product Features
Product Dimensions: 11.3 x 2.8 x 11.3 inches
Shipping Weight: 1.6 pounds
Shipping: Currently, item can be shipped only within the U.S. and to APO/FPO addresses. For APO/FPO shipments, please check with the manufacturer regarding warranty and support issues.
ASIN: B0039PUTZY
Item model number: 4568348
Manufacturer recommended age: 4 – 10 years
This Draganflyer Complete Airframe is a frame with motors, gears, and rotors. The package includes everything but the main circuit board, transmitter, and battery. Use as a complete mechanical replacement, or for experimentation. Great for hobby or University projects. The Draganflyer Complete Airframe Includes: 4 x Carbon Fiber Arms 4 x Vertical Risers 4 x Motor Mounts 1 x Center Cross Piece 1 x Main Wire Harness 1 x Clear Canopy 1 x Carbon Fiber Base Plate 4 x Draganflyer Motors 4 x Main Gears 1 x Rotor Set (2 "A" Blades & 2 "B" Blades) All Necessary Screws Are Also Included Compatible with all Draganflyer versions except the Draganflyer X-Pro.
Rekenbok has has everything you need to build a vibrant
, interactive construction site. Put the remote control Loader to work with the included ROK Star Controller. Steer it left and right. Spin it. Back it up. Scoop, haul, and dump. Then dump a load of ROK balls into the Motorized Conveyor and watch it come to life, automatically. ROKs are lifted into a chute system where they are sorted and stored in spring-loaded dumping bins. Designed to be a home base, this set is the best starting point for anyone looking to create a dynamic, expandable Rokenbok world. ROK Works includes a broad selection of Rokenbok building pieces. The Monorail, Forklift, and ROK Lift are especially easy to add when you're ready to expand your Rokenbok world.