The last three years have been full of uncertainty for many in the engineering and construction industry. However in Africa, one noticeable constant has been the insatiable demand for infrastructure in all forms. Partly fueled by the necessity to access and extract resources, implementation of grand infrastructure projects has also been mandated by governmental policies. Such is the case in Kenya where a major pillar in the government-sponsored development blue-print is infrastructural development.  To quantify the progress in the implementation of this vision, Kenya's infrastructural pillar encompasses several flagship projects all slated for completion before the year 2030 deadline. Two of these projects have been included in this list.  As in Kenya's case, most countries in Africa have recognized that sound infrastructure is the lifeblood of a modern economy.
The following projects represent some active projects in Africa which are not only grand in nature but also present opportunities for enhancing trade, connecting people,  fostering social cohesion, promoting regional integration and poverty reduction.
Kenya's  Lamu Port and New Transport Corridor Development to Southern Sudan and Ethiopia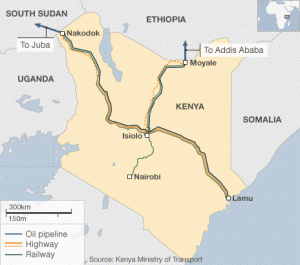 The Lamu Port and Lamu Southern Sudan-Ethiopia Transport Corridor (LAPSSET) better known as The Lamu corridor is a transport and infrastructure project in Kenya which when complete will be the country's second transport corridor.  The Lamu corridor includes the following key projects:
A port at Manda Bay
Standard gauge railway line to Juba, South Sudan
Road network
Oil pipelines (Southern Sudan and Ethiopia)
Oil refinery at Bargoni
Three Airports
Three resort cities (Lamu, Isiolo and Lake Turkana shores)
Ethiopia-Djibouti Railway
Ethiopia's Djibouti Railway is a $1.2 billion project expected to reduce transportation cost for landlocked Ethiopia. The line will be a 656 km long and will connect Ethiopia's capital Addis Ababa with Djibouti.  The railway network will have eight main routes connecting about 49 urban centers by 2015.
Nigeria's Lagos Metro Blue Line
The 27 km railway line is funded by the Lagos State government in partnership with private firms. The railway line is expected to ease transport in Lagos State which boasts a population of 16 million. Eko Rail won the tender to provide equipment including rolling stock, signaling, and electric power, recouping its investment of around $400 million from passenger fares through a 25-year build operate transfer concession.
South Africa's Durban waste-to-energy project
This $12 million project is funded by the city of Durban, the departments of trade and industry and energy, and the French Development Bank. The project involves the conversion of methane gas into electricity. The energy generated by this project is supplied to over 6,000 low income households in the municipality.
Kenya's Thika Highway Project
The Nairobi-Thika Highway Improvement Project in Kenya seeks to achieve the following three objectives: improve road transport services along the Nairobi-Thika corridor and reduce traffic congestion; develop a sustainable urban public transit system for the Nairobi Metropolitan Area; and boost private sector participation in the development of road infrastructures. The already completed project will certainly increase the pace of doing business between areas in Kenya which contribute the biggest value to the national economy.