The Most Impressive Transportation Systems In The World
According to the UN-HABITAT, half the world's population lives in urban areas. It is anticipated that by 2030 six out of ten people will be living in cities. Engineers around the world are thus tasked with the responsibility of providing sustainable transport systems that are tailored to meet local demands. This list provides and collection of such projects.
[divider style="solid" top="20″ bottom="20″]
1. The London Underground (The Tube), England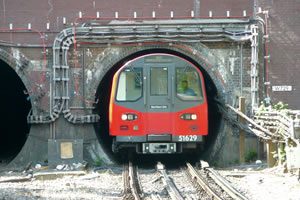 Marked as one of the world's greatest engineering feats, the London Underground is the world's only steam-driven underground railway and the first electrified underground railway. Now one of the oldest underground systems in the world, the Tube runs 400 kilometres and serves 270 stations. Easily transporting passengers from the densely urban Central London to picturesque Chiltern Hills, passengers are able to log on to the system's website for updates on travel delays or get route options on destination points. There are LED displays that tell passengers when the next train is coming as well as cushioned seats in cars. People are also able to access Wi-Fi services to access live travel information or use social media to plan their social life while on the move. With over one billion passengers, the Tube is one of the most travelled transport systems in the world.
[divider style="solid" top="20″ bottom="20″]
2. The Seoul Subway, South Korea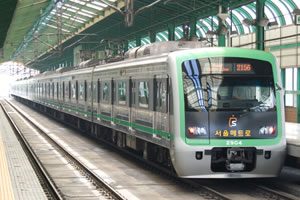 With 508 kilometres of track and more than a dozen lines running across the city's 25 districts, the Seoul Subway is the world's most extensive subway system by length. Renowned for its user friendly features LED screens announce the arrival of on-coming trains, both in Korean and English. Free Wi-Fi is available in its stations, offering high download speeds and uninterrupted service. The T-Money card, a transportation card, can be reloaded using the ticket vending machines located inside subway stations. Digital touchscreen kiosks provide real time information, maps and tourist information. The subway cars are also fitted with digital TVs and heated seats in winter. Additionally city buses are colour-coded to instantly show what type of route they ply, for instance red buses are express and green buses run short routes between subway stations and other points.
[divider style="solid" top="20″ bottom="20″]
3. The Tokyo Metropolitan, Japan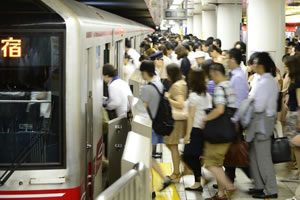 Also called the Tokyo Metro, this subway system is the busiest in the world with about 8 million passengers in a day. Mobile access in all its subway stations lets passengers hop on Wi-Fi, and announcements are made both in Japanese and English. Ticket machines can also switch between English and Japanese user interfaces. Their trains have a strong reputation of running on time and the subway is virtually void of any garbage, given the Japanese culture for cleanliness. Mitsubishi Electric has developed and delivered an auxiliary power supply systems for Tokyo Metro's Ginza Line that include the world's first silicon carbide power modules for use in trains. The modules will provide power for the air-conditioning and lighting systems, offer 30% less power loss and are 20% smaller and 15% lighter compared to current silicon modules. In preparation for the Tokyo 2020 Olympic Games, closed-circuit TVs are now available in most subway stations and railcars will provide international guests.
[divider style="solid" top="20″ bottom="20″]
4. The Copenhagen Metro, Denmark
Opened in 2002, the Copenhagen Metro is the definition of high technology transportation. Its Automated Driverless Train System allows the trains to be operated entirely without drivers, increasing both efficiency and safety. The Metro ride allows riders to buy a ticket on their mobile device or computer. They also have an urban bike program that allows people to use a quarter to unlock a parked bike, go for a ride and park it in another zone across town whereupon their quarter will be returned. It is operated and maintained around the clock and complies with very high demands on design, safety, service availability, passenger service, and reduced environmental impact.
[divider style="solid" top="20″ bottom="20″]
5. The Changi Airport, Singapore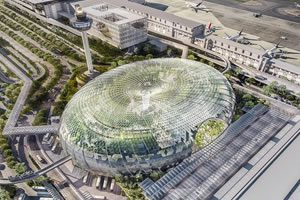 Winning the coveted title of the World's Best International Transit Airport at the 2012 World Airport Awards, the Changi Airport is famous not only for its efficiency but world class facilities as well. A major hub for international transport, more than 135000 passengers pass through it every day. The airport is designed to be an open, airy space with gardens, outdoor access, and comfortable seating areas. There is an incredible array of amenities from a butterfly garden, rooftop pool, movie theatres to a four-story slide. The Green Wall, a lush vertical garden, has over 20 varieties of plants, vines, and flowers growing on it. LG Electronics has now rolled out a "Social Tree" that allows travellers who arrive or pass through Singapore to hook up with friends in an easy manner regardless of how far away they are. A total of 64 47"LG displays form a cylindrical video wall, while eight kiosks enable travellers to post images and also share photographs and videos via Facebook and email. So popular is the airport that it has become a tourist attraction.
[divider style="solid" top="20″ bottom="20″]
6. Incheon International Airport, South Korea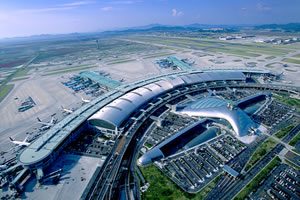 Incheon has established itself as a logistics hub for North East Asia and is largely popular with the international business community. Ranked one of the best global airports in the world, plans are underway to double the airport's size by adding on a second, 72-gate terminal. Slated for completion in 2017 the terminal will include a second control tower, train station, parking facilities, and an integral hotel and conference centre, incorporating advanced technologies to set new performance benchmarks for the celebrated airport. The airport currently boasts a golf course, spa, private sleeping rooms, ice skating rink, a casino, indoor gardens and a Museum of Korean Culture. Opened in 2001, the airport receives well over 30 million passengers in a year.
[divider style="solid" top="20″ bottom="20″]
7. U-Bahn and S-Bahn, Germany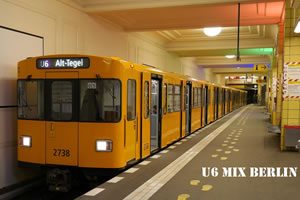 The Berlin Underground (U-Bahn) is one of the most modern systems in all of Europe, acclaimed widely for its high performance levels and emphasis on environmental responsibility. Covering 132 kilometres, the U-Bahn links to the S-Bahn; the above-ground train network that links to other transportation routes throughout the city. Both systems are seamlessly integrated with tickets that only need to be validated once, saving time and congestion. The underground system runs trains every two to five minutes at rush hour and at regular intervals during non-business hours. Furthermore, Munich's transit authorities even have an app for iPhones and Androids with maps, timetables and a route planner. There is mobile phone coverage throughout all its tunnels and stations. The U-Bahn stations are also a wonder to experience, with some featuring an entryway that looks like a runaway subway car has crashed through the surface.
[divider style="solid" top="20″ bottom="20″]
8. The Taipei Metro, Taiwan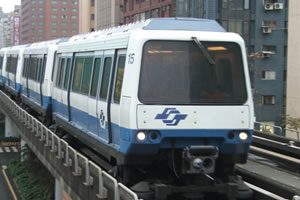 Attracting nearly 2 million passengers every day, the Taipei Metro is a clean, efficient and punctual rapid transit system that runs every five minutes or less. One of the most expensive systems in the world, passengers use EasyCard, a token embedded with a microchip allowing contactless payment read by buses and MRT metro stations. The card can now be used on high-speed trains, bicycle rentals, some taxis and even some domestic flights. The Taipei Metro has LED screens with times of trains along with Mandarin, Taiwanese, Hakka and English announcements. Glass and light art cover the ceiling and columns of the station.
[divider style="solid" top="20″ bottom="20″]
9. The Stockholm Tunnelbana, Sweden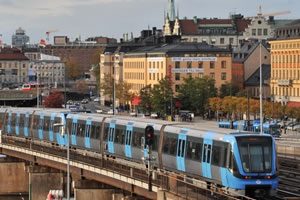 Undisputedly the most beautiful subway system in the world, the Stockholm Tunnelbana has rightfully earned the title as the longest art gallery in the world. With carefully placed lights and stylish paint jobs, the stations present a gigantic, kaleidoscopic art exhibition; reflecting a world class design sensibility. Many of the deep underground stations are cut into bedrock, with the walls and ceilings splashed with rainbow colours and intricate designs. Platforms and tunnels are decorated with sculptures, mosaics, paintings, installations, engravings and reliefs by over 150 artists. Not only is it a convenient means of travel, it is also a must-see destination for many art lovers.
[divider style="solid" top="20″ bottom="20″]
10. The Moscow Metro, Russia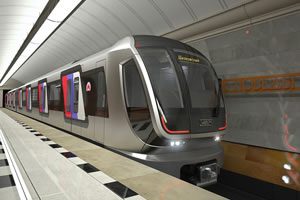 The Moscow Metro is one of the world's most heavily used rapid transit systems. Famous for its architecture and history, the "Underground Palace" is decorated with basil and marble in order to admire mosaic, sculptures and glass paintings. Serving over 7 million passengers in a day, the Moscow Metro is one of the world leaders in volume of traffic and reliable transportation. Majority of the network is hidden deep below the streets of Moscow and provides a convenient and quick transport option for over half its population.