Engineers around the world are faced with challenges that require ingenuity and problem solving skills to develop a sustainable solution. Some of these projects have set precedence for solving future engineering challenges while others continue to mark the spirit of innovation and are lauded worldwide as iconic landmarks:
1. Kansai Airport, Japan
The first airport to be built on an artificial island, the Kansai Airport was opened in 1994 to relieve overcrowding at Osaka International Airport. In 2001 it was named the second civil engineering project of the 20th century by the American Society of Civil Engineers. Constrained by urban development and mountains, Osaka Airport could no longer be expanded and engineers finally came up with an intriguing solution: creating a man-made island. Located 5 kilometers from the eastern shore of Osaka Bay, the island is 4.4 kilometers long and 1.25 kilometers wide, covering 510 hectares. It took three years to build, using about 10,000 workers and 80 ships to excavate 21 million cubic meters of landfill. The total cost of construction was $20 billion which included land reclamation, two runways, terminal and facilities. Engineers went on to apply the same lessons they learnt from this project to successfully build three other airports on artificial islands.
2. The International Space Station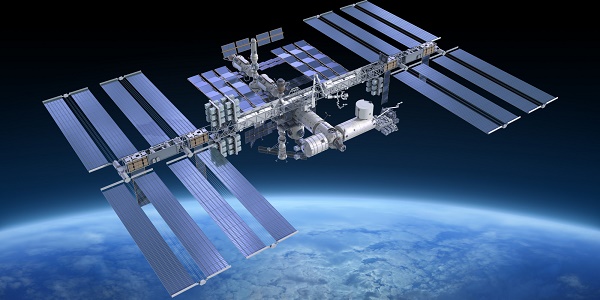 Floating about 240 miles above Earth's surface, the International Space Station is an orbiting laboratory and construction site that has involved over 100,000 people from 16 different nations. It was the largest, most complex international scientific project in history. Construction started in 1998 when the first piece of its structure, the Zarya Control Module, was launched into orbit with a Russian Proton rocket. It is funded until 2020 but is expected to be in operation until 2028. Acting as a permanent human outpost in space, the 500 ton International Space Station can hold a crew of six or seven in 46,000 cubic feet of pressurized volume in six labs, two habitation modules and two logistics modules. It is the largest artificial body in the space orbit and can be seen with the naked eye from Earth.
3. Palm Jumeirah, UAE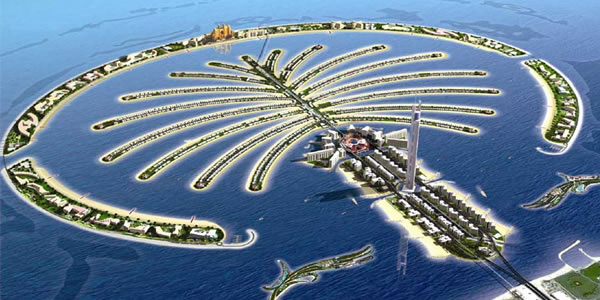 In an attempt to expand its coastline to create leisure opportunities for residents and visitors as well as provide extensive habitat to marine life, Dubai created a man-made island about 5 km in diameter that covers an area of 600 hectares. It is joined to the mainland by a six-lane sub-sea tunnel and the crescent and a palm top are connected with an underwater tunnel. Engineers used GPS to get the complex shape right. Once the sand was compacted using vibro-compaction, the island was prepared for occupation and work went underway for the installation of desalination plants, state-of-the-art vacuum sewerage wastewater treatment, underground power lines and the construction of a transport network including a monorail. Today it holds themed boutique hotels, villas, shoreline apartment buildings, beaches, marinas, restaurants, cafés and a variety of retail outlets. While other bigger islands are under construction in the same region, they are plagued by financial and engineering challenges.
4. Panama Canal, Panama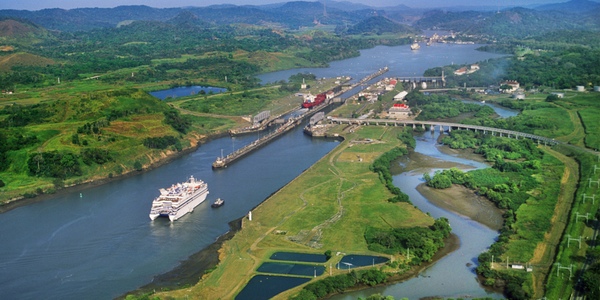 It took centuries and input from several engineers to successfully cut a 50 mile waterway through a mountainous landscape to create gravity-fed water locks that could lift giant freighters and ocean liners 85 feet up from sea level, across the isthmus, and back down again. Connecting the Atlantic and Pacific oceans, the canal shortened trips around South America's Cape Horn by 8,000 nautical miles, allowing ships to avoid an expensive and dangerous trip. Using a system of locks to raise and lower vessels, ships from all over the world pass through the canal. It was one of the largest and most difficult engineering projects ever undertaken.
5. Magdeburg Water Bridge, Germany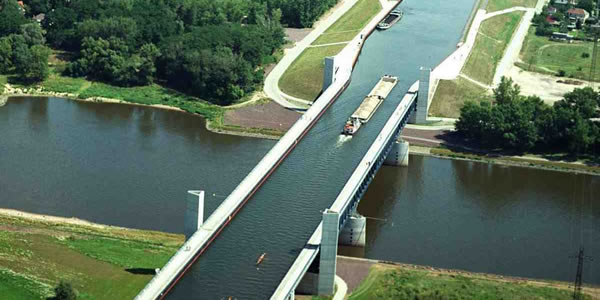 The Magdeburg Water Bridge connects East and West Germany over the River Elbe and is the world's longest navigable aqueduct at 918 meters. Lauded as an engineering marvel, the bridge not only joins two German shipping canals (the Elbe-Havel Canal and the Midland Canal) but also provides a ship crossing over the river Elbe. It enables river barges to avoid a lengthy and occasionally unreliable passage along the Elbe. It took more than 80 years to plan as construction was started in the 1930s but halted due to the Second World War. The bridge took six years to build at a cost of about half a billion euros. It was opened to the public in 2003.
6. Trans-Siberian Railroad, Russia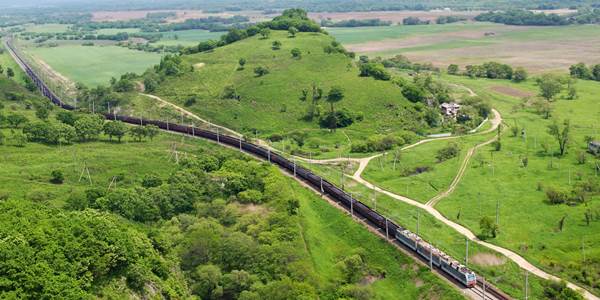 Upon its completion, the Trans-Siberian Railroad remains one of the most spectacular engineering accomplishments that the world has ever seen. It connects Moscow and Eastern Russia with Japan, China and Mongolia and is the longest railway line in the world. Crossing seven time zones, 87 towns and cities and crosses 16 major rivers, engineers had to design a railway line that could operate in very cold temperatures and conquer a challenging landscape. Using thousands of workers most came from the ranks of exiled prisoners and soldiers. About 600 kilometers of railway was put down every day and the project was completed in 12 years, finally linking Europe to the Pacific Ocean.
7. The Channel Tunnel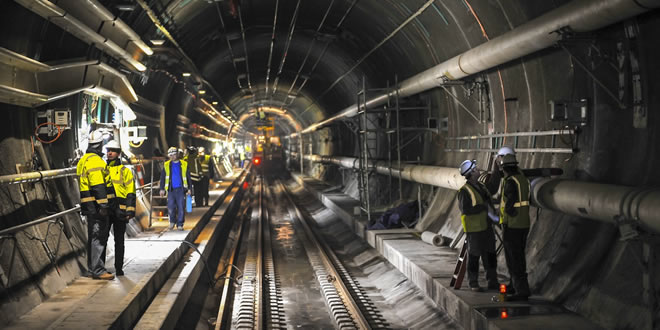 Named one of the "Seven Wonders of the Modern World" by the American Society of Civil Engineers, the Channel Tunnel is a 32 mile underwater rail tunnel that links the island of Great Britain and France beneath the English Channel. It consists of three tunnels: two tunnels to carry trains and a smaller middle tunnel used as a service tunnel. Plans were made to build a tunnel over a period of two centuries but were continuously halted due to political tensions and funding issues. Finally construction started in 1988 and was completed in 1994. Today, the Channel Tunnel serves the transportation needs of over seven million people a year who travel on the Eurostar trains.
8. Netherlands North Sea Protection Works
With one third of its nation sitting below sea level, Netherlands has for centuries battled with brutal storms and floods. Various attempts were made to hold back the sea but none was ever successful until the North Sea Protection Works was undertaken. A complex system of dams, floodgates, storm surge barriers and other engineered works created new land from the North Sea. First a 19-mile-long enclosure dam was built between 1927 and 1932 turning the Zuiderzee Sea into a freshwater lake. The Delta Project was then undertaken to control the treacherous area where the mouths of the Meuse and Rhine Rivers break into a delta. Finally, a two mile barrier of gates known as the Eastern Schelde Barrier was set up to fall only when storm-waters threaten. When completed in 1986, the dam connected two islands on each side of the delta and is attributed as one of the most sophisticated civil engineering projects of all time.
9. Itaipu Dam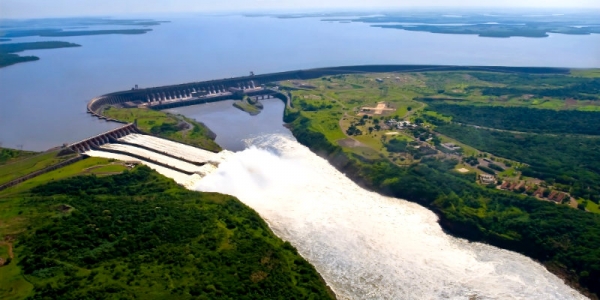 Located on the border of Brazil and Paraguay, Itaipu Dam is the world's largest operating hydroelectric facility, supplying Paraguay with 90% of its electrical needs. Itaipu dam consists of a series of dams: an earth fill dam, a rock fill dam, a main dam built with concrete and also a concrete wing dam all 4.8 miles long and 738 feet high. While it is an amazing achievement the project displaced almost 10,000 families who had to relocate before their homes were flooded by the growing reservoir. It also submerged the Guaira Falls, once considered the most spectacular water feature in the world, when the reservoir was filled.
10. CN Tower, Canada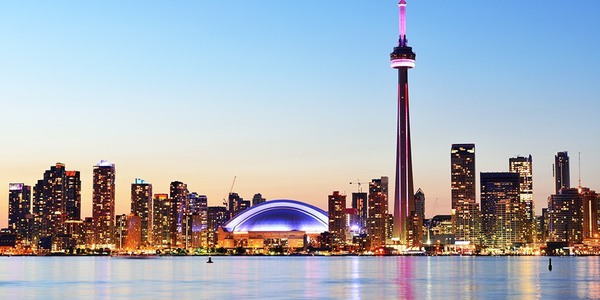 The CN Tower is a defining feature on the Toronto skyline and was the world's tallest building when it was completed in 1976. Stretching more than 550 meters into the sky, it not only serves as a hub for telecommunications across the city but is also serves as the center for tourism. It was designed to withstand winds of up to 260 mph and an earthquake of 8.5 on the Richter scale. Struck by lightning at least 75 times in a year, it has long copper strips which run down the side of the building and are attached to grounding rods buried below ground, protecting the structure from damage. It has interesting features which include a glass floor and a revolving 360 restaurant. It remains the tallest free-standing structure in the Western Hemisphere.