Brunel's Greatest Projects
Isambard Kingdom Brunel is one of the most versatile, daring and inventive engineers of all time. The epitome of creativity, he remains a key figure who provided the impetus for Britain's industrial growth during the nineteenth century. A polymath, his projects crossed over from civil, structural, mechanical and marine engineering to architecture, art and design. Furthermore he was an entrepreneur who managed to raise large amounts of money for his work, some which are still in existence to date. His legacy is indisputable in how he changed the face of Britain and his construction techniques.
The Thames Tunnel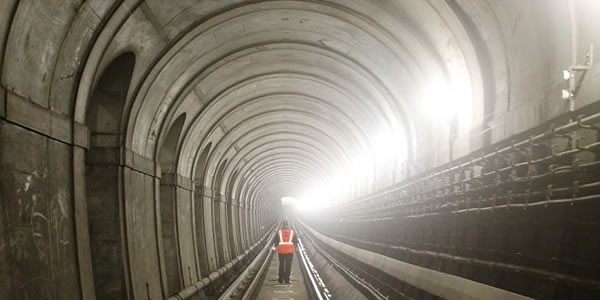 Designed by Marc Brunel, Isambard's father, the Thames Tunnel was the first engineering project he embarked on when he returned to Britain. The project kicked off in 1825 and was halted several times when the river burst in and flooded the workings. At one point, Isambard Brunel was swept away by a flood and almost died. Eventually finances hindered its progress and it was opened to the public eighteen years later. At the time of its completion it was hailed as the eighth wonder of the world. Originally designed to be a footpath it was the first tunnel to be built under a navigable river. It was eventually sold to the railways and became part of the London Underground system in 1865, a role it still performs today. It carries about 14 million passengers through it each year.
[divider style="solid" top="20″ bottom="20″]
The Clifton Suspension Bridge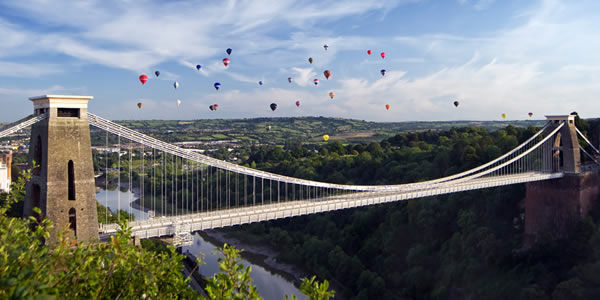 Opened in 1864, the iconic Clifton Suspension Bridge is located in Bristol and was designed by Brunel when he was only 24 years old. Although construction began on the bridge in 1831, the project was abandoned 12 years later, due to lack of funds and political issues. It was only completed in 1859 after Brunel's death, as a memorial to him. It all began in 1754 when a wealthy merchant left a legacy to build a bridge over the Avon Gorge. He funded a competition through his will, inviting engineers to submit their plans. With the famous bridge constructor Thomas Telford sitting at the helm as the judge for all submissions, proposals were sought for a wrought iron bridge. Telford rejected all designs; including Brunel's and instead put forward his own ideas. After much squabbling, Brunel was eventually declared the winner and appointed project engineer – his first major commission. In June 1831 the first stone on the Clifton side tower was laid but riots in Bristol led to loss of investor confidence and work on the bridge was suspended. Sadly, Brunel never got to see the completion of his great work. Though the Clifton Suspension Bridge was designed in the early 19th century for light horse drawn traffic it still meets the demands of 21st century commuter traffic with thousands of motor vehicles crossing it every day. Held up by 81 wrought-iron rods, the bridge is 1,352 feet long, and towers 245 feet above the Avon. It continues to be a major landmark in the area.
[divider style="solid" top="20″ bottom="20″]
The Great Western Railway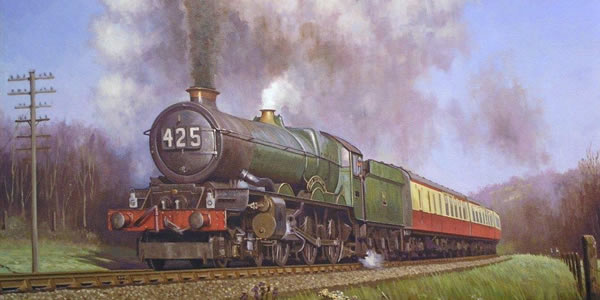 While working on the Clifton Bridge, the Bristol Railway Committee named Brunel as their chief engineer on an ambitious scheme to connect Bristol to London by railway. He conducted a survey and presented his proposal to the committee after three months. Approved by parliament in 1835, work started the following year. Propelling his international engineering status, Brunel controversially chose to use a broad gauge instead of standard gauge. While this led to difficulties when the two gauges met as passengers had to transfer trains, it produced a smoother, faster journey. Construction of the line started at two locations; between Bristol and Bath, and Reading and London, eventually reducing the gap between them. Brunel retained a remarkable degree of control over the detailed design for the line and several achievements were noted: Paddington station, Wharncliffe Viaduct, the Maidenhead Bridge, Swindon Railway Village, Wootton Bassett Incline, Box Tunnel, Sydney Gardens and Temple Meads Passenger Shed. The Great Western Railway continues to be a vital part of the modern railway network today, marking a masterpiece of design by one of the most celebrated engineers of all time. Brunel displayed originality, intellectual depth, remarkable personality and attention to detail; which all attributed to the success of this project.
[divider style="solid" top="20″ bottom="20″]
The ss Great Western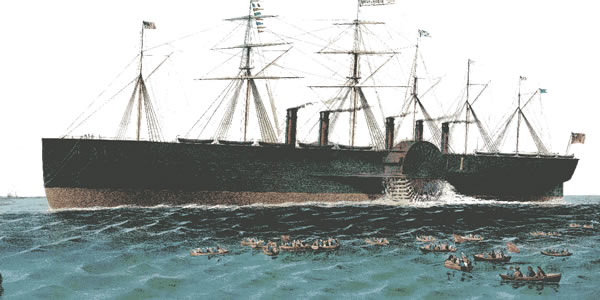 Brunel approached the company that backed the Great Western Railway to further extend their line into trans-Atlantic travel. Launched in 1837, the Great Western was Isambard Kingdom Brunel's first ship and was the largest steamship of its time when it was completed. At 236 feet, the ship was built of oak, trussed with iron and wood diagonals. The ship's engines were the most powerful yet built and it was designed to carry 148 passengers. The ship made its first voyage in 1838 and it took 15 days to complete the journey from Bristol to New York. It made more than 60 crossings over the next eight years. The ship was so popular and profitable that the owners requested for a sister ship to be built. By this time, Brunel had begun designing her replacement and his ideas for ship design had already changed significantly. The ss Great Western was decommissioned in 1856 and broken up in 1857.
[divider style="solid" top="20″ bottom="20″]
The ss Great Britain
Setting a number of precedents in engineering design, the ss Great Britain quickly overshadowed the ss Great Western to become the largest ship in the world after it was launched in 1843. The first ocean-going iron ship, it had screw propellers and was a forerunner of modern passenger liners. At 320 feet long, the ship carried 252 first and second class passengers and 130 crew members. On her maiden voyage across the Atlantic she completed the voyage in only fourteen days. It travelled the world for nearly 45 years and covered over a million miles. Today it is housed at the Bristol Docks, the sole survivor of Brunel's Great Ships provides an insight into the dawn of modern sea voyaging.
[divider style="solid" top="20″ bottom="20″]
The ss Great Eastern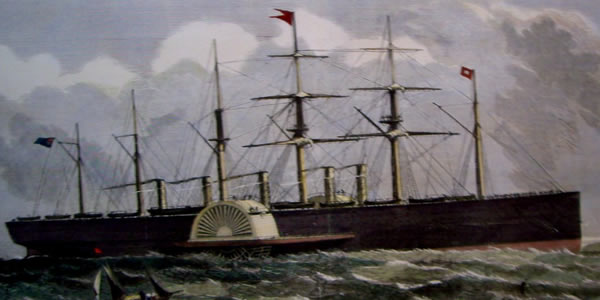 Isambard's final project, the ss Great Eastern, was plagued with problems and it is said that the stress of building it eventually killed him. Originally called Leviathan, Brunel designed a ship that was more than twice the length of any other ship and could carry nearly 4,000 passengers. It was designed to be unsinkable, featuring double watertight hulls and could sail to Australia and back without refueling. The ship required huge engines, capable of generating 8000 horsepower. Fitted with both paddlewheels and screw propellers, the ship was not only fast but extremely maneuverable. Unfortunately, when work on the ship started, it was too advanced for technology at that time and kept running into technical issues. While the ship was useful for cable laying, it failed to turn a profit and was eventually sold for scrap in 1889.