5 most dangerous roads in the world
My first engineering job in college was working for a roadway design consultant. I found the work fascinating because it mostly involved site surveys and CADD design. During the short duration of that internship, I don't recall experiencing a challenge that I could not address, especially given the vast tools available at my disposal. So, I can only wonder how these engineers designed these seemingly impossible road projects. What design standards governed them? Did they actually do surveys and run simulations? What were the factors-of-safety utilized? And the most important question, which engineers signed off on these projects?
One thing is certain, you have to admire these designs for coming up with 'usable' navigation paths where others might have seen obstacles. While dangerous at least we can give them credit for their boldness.
5. Van Zyl's Pass, Namibia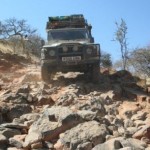 Van Zyl's Pass is located in Namibia. While this should not be considered a road by any means, it is a travelled pathway and therefore eligible for our list. The road is about 10 miles of outrageously steep pass, further complicated by the presence rocks, boulders, badlands and ravines. The only solace to this otherwise treacherous route is the descent to the Marienfluss valley,  an ancient glacial valley known as one of the world's most beautiful sights.
4. Trollstigen, Norway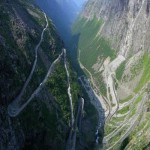 The Trollstigen is a narrow road in Norway. Interestingly enough the road is a double lane despite the fact that there are few possibilities for vehicles to pass each other. This road requires the driver to have sharp concentration and driving skills to match. The vertigo-inducing steep inclines, intense set of hairpins and narrow roads leave no margin for error. Luckily, breathtaking views await you at the top, if you happen to make it there.
3. Guoliang Tunnel Road, China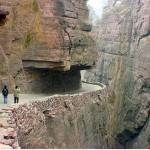 The Gualiang Tunnel Road in the Taihang mountains was built by local villagers headed by their chief and begun operating on May 1, 1977.  It is said that many villagers lost their lives in accidents during construction of the tunnel, which took about five years to finish.
The tunnel is about 16 feet high and 13 feet wide. It is located in the Henan Province of China. The Guoliang Tunnel qualifies as a dangerous road given its clearly risky design and altitude, and that disheartening fact that it was dubbed as "the road that does not tolerate any mistakes."
2. Halsema Highway, Philippines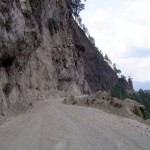 The Halsema Highway goes through the Central Cordillera Valley in The Philippines. The road is mostly unpaved and runs approximately 150 miles long. Guardrails are virtually non-existent despite the fact most of the road is perched atop steep cliffs. To make matters worse, the road is narrow with the cliff face making the road almost impassable during the rainy season. This passage is famous for the many rock slides and mud slides. It goes without saying that there are enough (catastrophic) accidents and many overturned buses on a yearly basis.
1. The Road of death, Bolivia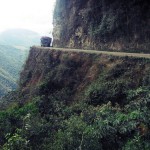 The appropriately titled road is a 43-mile road connecting La Paz and Coroico, 35 miles northeast of La Paz in Bolivia. Famous for its extreme danger, it was christened as the "world's most dangerous road" in 1995 by the Inter-American Development Bank. The single-lane width, extreme drop offs, and lack of guardrails, only add to the perpetual danger. As if that wasn't enough for the driver to consider, fog and rain can make visibility poor and the road surface muddy.
It is estimated that 200 to 300 travelers are killed per year on this treacherous road. Although this road is used less by traffic nowadays, an increasing number of adventure bikers travel it for the thrills.