On our recently featured compilation of the top 10 most impressive engineering projects, the Boston Big Dig project made it at number four, well ahead of The Millau Viaduct and The Channel Tunnel. What impressed us most about this Boston wonder was the audacious approach to solving a congestion issue. Where most people would have been content with wider lanes or maintaining the status quo, the project engineers sought to go under the city, marking the beginning of one of the most complex and technologically challenging highway projects in the history of the United States.
In line with this audacious approach to solving traffic problems, Seattle has followed Boston's approach by proposing an underground tunnel which will replace a section of the Alaskan Way Viaduct (Highway 99). The proposed project encompasses several phases, in which the existing the double-decker bridge will be replaced by a combination of roads and a tunnel. The latter is a deep-bore tunnel beneath downtown Seattle, which will replace the central waterfront portion of the aging viaduct.
Challenges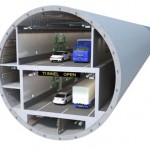 This Seattle project is further complicated the varying type of soils, the depth of the groundwater not to mention the proposed width which will require machines wider that the kind presently available in the market.   A geotechnical report released by the Washington Department of Transportation (WSDOT), shows that the clays present within much of the route are "sticky enough to potentially clog a machine."  The report further warns of patches of gravels and quartz sand that are abrasive.
Costs
Despite the imminent challenges, WSDOT is proceeding with the project even setting a bold target date of November 2016 and a war chest totaling $3.1 billion.  A tunneling machine for the project is estimated to cost between $60 million and $80 million, out of a $1.1 billion tunnel contract, according to the state Department of Transportation (DOT). With contingencies and design costs, the tunnel is $1.96 billion, of a total $3.1 billion highway-corridor price that includes surface and elevated roads and ramps.
Bid proposals are due in late October.
The Hoover Dam Bypass | Back – Next | Mubarak Pumping Station