Some of the best picks of fiction work for engineers to read are mystery and suspense novels. Nothing gets their juices flowing like a good puzzle they can try to piece together. While this genre is densely populated with the one PI and the resourceful police detective, engineering related characters are not as plentiful, but they do exist. These are some of the books we recommend to those in the engineering profession who no longer need to feel left out of popular fiction.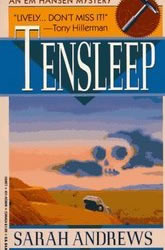 A geologist by profession, Sarah Andrews writes books with an aim to make geology easier to access to her readers. She is renowned for her mystery series that revolves around her captivating heroine – geologist Em Hansen. Tensleep starts off with Em working as a mudlogger for the Blackfeet Oil Company making a living out of tracking what's beneath the surface of the endless Wyoming prairie. Living off a dingy trailer, matters are made worse by the fact that most of her male colleagues do not think an oil rig is any place for a woman. Things begin to stir up when the head geologist Bill Kretzmer is killed in a seemingly accidental death followed by co-worker Willie Sewell who is apparently crushed by a horse. As the book unravels and Em sets off to unearth the killer, readers get an appreciation for what life is like in an oil-drilling operation.
The Seventh Sacrament by James Bradberry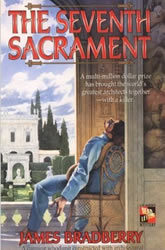 An award-winning architect who has spent his time teaching in prestigious institutions such as Yale, the University of Pennsylvania and Temple University, James Bradberry crafts the book around his protagonist, Professor Jamie Ramsgill. The plot sets off when the world's six greatest architects are gathered for an extraordinary competition where the winner is promised five million dollars. Rasgill is invited to oversee the competition and one by one each competitor is killed off in a strange series of "accidents". When he can find no-one who is willing to believe that there is more to these incidents, Rasgill is forced to undertake his own investigation in order to prove he isn't crazy.  With a pleasantly surprising ending, this book is an intricate tale that will be hard to put down.
Mrs. Pargeter's Plot by Simon Brett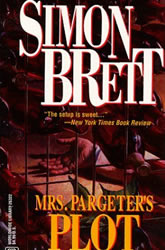 The son of a quantity surveyor, Simon Brett infuses a stimulating plot that tackles the relationship between construction and murder. After the death of her husband, Mrs. Pargeter decides to use some of her inheritance to build a country home in the British countryside.  She turns to an old friend of her husband's, Concrete, to help her but it isn't too long before the two wind up in hot water when a body is found in the new wine cellar. After the police arrest Concrete, Mrs. Pageter sets out to identify the murderer and keep her builder out of jail.
The Engineer's Thumb by Sir Arthur Conan Doyle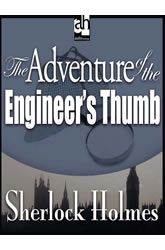 When a hydraulic engineer has his life threatened while attending to a man's press (said to be used to crush bricks) he shows up on Sherlock Holmes doorstep with his thumb torn out of his hand. There is no great mystery for Holmes to solve in this story and Conan Doyle created a brilliant story line where Holmes does not catch the criminal. A Scottish physician and writer, Sir Arthur Conan Doyle was a prolific writer noted most famously for his stories about the detective Sherlock Holmes.
Pillars of the Earth by Ken Follet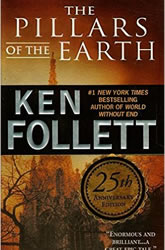 A novel that focuses on building a cathedral in the Middle Ages is sure to be the perfect literary escape for any engineer.  Blending the ambitions of three men to spin off a tale of bloodshed, betrayal, faith and ambition, this epic tale captures the story of a master builder and his community as they struggle to build a cathedral and protect themselves during the tumultuous 12th century, when the empress Maud and Stephen are fighting for the crown of England after the death of Henry I. Ken Follet is an international best-selling author who rose to fame when he was only 27.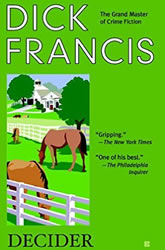 In this story, Dick Francis displays his grasp on architecture and construction. Following the journey of Lee Morris, a young architect, engineer and builder, who plans to restore Stratton Park racecourse to its former grandeur but does not anticipate the combative Stratton heirs who have violent plans of their own. Dick Francis was a popular British horseracing crime writer and retired jockey.
Engineered for Murder by Aileen Schumacher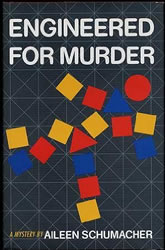 A registered professional engineer and owner of a consulting engineering firm, Aileen Schumacher does a brilliant job of introducing Tory Travers, a young, widowed, structural engineer whose life dramatically changes when a scandal erupts regarding the mishandling and structural problems of the new football stadium. The promise of financial and personal ruin continue to mount as a control technician is murdered and the son-in-law of a major subcontractor for the new, under-construction football stadium absconds with the lab records. Aileen Schumacher wrote this book purposefully to highlight the visibility of females in non-traditional careers.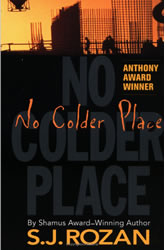 In addition to winning the 1998 Anthony Award for No Colder Place, SJ Rozan is also a New York architect who has proven time and time again her grasp on how a good mystery works through the Bill Smith and Lydia Chin series. In this book, the two detectives go undercover at a construction site that is plagued by thefts and deaths. They plunge into a gripping tale of twisted loyalties, old-fashioned greed and organized crime as they search for answers.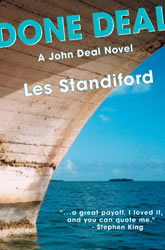 Done Deal is the first in the series featuring a South Florida building contractor, John Deal. As he sets about to rebuild the once formidable DealCo, a development company once headed by his flamboyant father Barton Deal, he finds himself entwined in a web of mayhem and murders surrounding the acquisition of a site for a major league baseball franchise. Les Standiford, a historian and author, is an award winning writer and is also the Director of the Florida International University Creative Writing Program.
Current Danger by Marilyn Wallace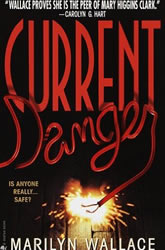 A successful independent building contractor working in Manhattan, Claudia Miller finds herself in the middle of an enthralling plot as relatives of people who worked with Claudia on the renovation of a building on New York's Mercer Street several years earlier are being killed off in ways connected to electricity. Soon her own family is at risk and Claudia is being stalked. As she sets out to unmask the person behind these attacks, Claudia stumbles upon shocking revelations that lead to a face-to-face showdown with her enemy. Marilyn Wallace does a brilliant job at implementing electricity in her story line as well as creating a character whose career is considered nontraditional for female detectives.