Building the Tallest Building in America – The Chicago Spire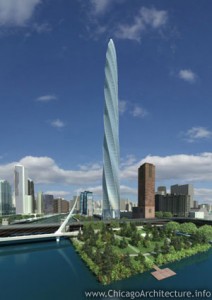 Chicago has always been a city of tall buildings with the Sears Tower Willis Tower still boasting as the tallest building in America – years after it was constructed. This long celebrated period will come to an end for the Willis Tower after the completion of the Chicago Spire, a 150-floor residential building.
This magnificent residential building was designed by the renowned Spanish architect Santiago Calatrava and was developed by Garrett Kelleher of Shelbourne Development Group Inc.
Santiago Calatrava
The project's architect, Santiago Calatrava who is both the lead architect and engineer for this project is famous for
his ability to create public landmarks on a grand scale. [Calatrava] has one of the most impressive bodies of work ever assembled including the Athens Olympic Sports Complex, the rebuilding of the World Trade Center Transport Hub, plus dozens of the most beautiful buildings in major cities around the world – airports, opera houses, bridges, train stations. Source
Project details
Once completed, the building will be a 2,000-foot tall spiraling tower with 150 floors and will also include an underground 5-floor garage. The completed structure will have a base-to-height ratio approaching one to ten, making The Chicago Spire the most slender super-tall building in the world.
Construction of the Spire
The biggest obstacle to completing this building was the zoning requirements. The parcel of land selected was only zoned for a 540-foot tall building and a 350-foot tall building. However, the developer managed to assuage the city, neighborhood groups, and local open space activists by developing a riverfront plaza with six stories of parking underneath.
When the project is completed some time in 2010, the Chicago sphere will be one of the world's tallest buildings and freestanding structures. The completed structure will be home to about 1300 residences plus all the amenities to go with such a remarkable structure

Chicago's Sears Tower Sky-deck | Back – Next | The Hoover Dam Bypass