The view down – Chicago's Sears Tower Skydeck
Construction is underway on the famous Skydeck on the 103rd floor the The Sears Willis Tower in Chicago.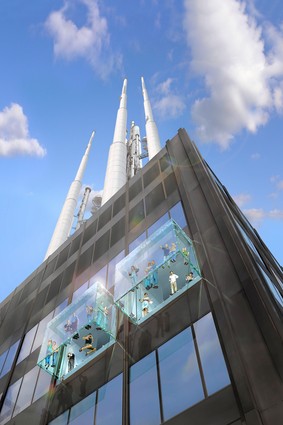 The new project will give visitors a view of the city's skyline and the view right beneath their feet.  According to ENR.com,
Each "ledge," measuring 12 ft long and 10 ft tall with floor space of about 4.5 ft by 10.5 ft, fits between existing columns. Structural frames, strategically hidden behind ceiling and drywall, support the boxes, which are being hung from cantilevered steel frames with no structural elements other than fastening clips, "resulting in an unimpeded view of the city of Chicago and the street below your feet," says Terry McDonnell, principal at Halcrow Yolles, project engineer.
Safety has been a concern for engineers since the inception of the project.  A series of tests were performed on the mock model, involved load-testing for 2.5 times the loads allowed by the code for pedestrian loads. All three sides of each of the glass boxes have redundant laminate to ensure safety.  Each of the boxes can hold up to 5,000 lbs and withstand wind pressures of 125 lb per sq ft.

Spotlight projects | Back – Next | The Chicago Spire