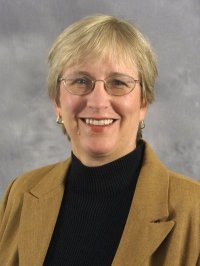 Kathy Caldwell, P.E., graduated from the University of Tennessee with High Honors in Structural and Construction Engineering in 1985 after employment as a drafter and field technician for nine years following high school. Upon college graduation, she was a structural designer with Lockwood Greene in Oak Ridge, Tennessee. Kathy moved to Austin, Texas in 1987 and joined Parkhill Smith and Cooper where she was commended by the Texas Department of Highways for her work as a design consultant. During this time, her husband, Ronald Cook, completed his PhD in Structural Engineering at the University of Texas.
Kathy and Ron moved to Gainesville, Florida in 1989 where Kathy joined Jones Edmunds and Associates, Inc. During her 19 years with the firm, she served public works clients as a Design Engineer, Project Manager, and Senior Construction Resident Engineer. She became a Division Manager, Vice President, and Executive Committee member. During her tenure, she participated in the development of the firm's Strategic Plan, managed Plan implementation, and served as a member of the leadership team that integrated the five elements of the Plan into the firm's culture and operations.
Kathy led the successful establishment of a new market sector for the firm, ultimately resulting in her being named President of JEA Construction Engineering Services, Inc. (JEAces), a wholly owned subsidiary of Jones Edmunds, in 1999. The subsidiary grew to generate 25% of Jones Edmunds net revenue in its first five years of operation. Kathy retired from her position at JEAces in May of 2008 and is now President of Caldwell Cook and Associates and an adjunct Professor at the University of Florida.
Kathy has been an active, service-oriented member of ASCE since 1984. She was President of the Gainesville Branch in 1993/1994 and was the first president of the consolidated Florida Section (1999/2000). Her organizational and leadership skills contributed to the adoption of the Bylaws and Rules for Region 5. Kathy remains active with the Gainesville Branch, the Florida Section, Region 5 and Society committees. Kathy is a long and passionate proponent of ASCE's Student program and is a Practitioner Advisor for the University of Florida Chapter. Most recently, Kathy served on the ASCE Board of Direction and Executive Committee while chairing the Region 5 Board of Governors and the Society's Strategic Planning Committee.
In addition to her professional successes, Kathy is proud to have been honored as an Outstanding Alumni by the University of Tennessee Department of Civil and Environmental Engineering.
How to Vote
According to the ASCE's website,
Only voting members with a valid e-mail address on record as of May 15, 2009, will receive an electronic signature via e-mail starting June 15. The email will contain a link to the voting site. If you are eligible to vote and have not received an electronic signature by June 19, you may contact ASCE Customer Service at 800-548-ASCE (2723) and request that one be provided. No electronic signatures may be provided on the phone, so a valid e-mail address is needed.
Election ballots will also be sent to the address of record for all eligible voting members by the election vendor, Survey and Ballot Systems. The election ballot will not be included in ASCE News this year, but the biographical, vision statements and other information will be published in the June issue.
Additional links