Two HDR Projects Named Best of the Best by McGraw-Hill
Los Lunas Silvery Minnow Refugium and Valley METRO Light Rail Line Section 5 win national honors from McGraw-Hill Construction.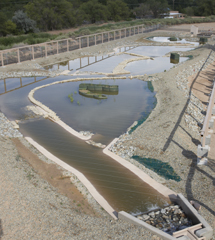 (February 11, 2009 – OMAHA, Neb.) – Two HDR projects have been named The Best of the Best in a national competition by McGraw-Hill Construction (MHC).
The Los Lunas Silvery Minnow Refugium in Los Lunas, N.M., was cited as Best Small Project and the Valley METRO Light Rail Line Section 5 in the cities of Tempe and Mesa, Ariz., was named Best Transportation Project. National winners were selected from regional winners of MHC's Best of 2008 awards. Out of 225 regional winners, an independent jury of construction professional selected 23 national winners in 22 categories.
Winning projects will be profiled in the March 9 issue of Engineering-News Record and in the April 2009 issue of all 11 regional McGraw-Hill publications.
Both HDR projects were initially submitted to Southwest Contractor magazine. The regional publications accept "Best of" submissions from engineering, architecture and construction companies. METRO Valley Rail was submitted by Sundt Stacy Witbek, HDR's construction partner, and Los Lunas was submitted by HDR.
About the Projects
The silvery minnow's future has been challenged as its natural habitat, the Rio Grande River, has been changed by diversion and population growth. The Los Lunas Silvery Minnow Refugium in Albuquerque is the world's first of its kind, providing a safe place for the endangered minnow to spawn. It mimics the river's natural conditions with a 460-foot-long meandering stream, ponds and overbank features, and returns nearly all used water to the aquifer. Recirculating pumps vary the water flow from 200 to 1,800 gallons per minute, and the water can be raised up to four feet to trigger a spawning event.
Section 5 of the 20-mile-long Valley METRO Light Rail project begins at First Street in Tempe, Ariz., and spans 4.9 miles to downtown Mesa. The segment is unique in that it has sections of both paved and ballasted track, contains a segment of non-street running guideway, traverses the Arizona State University campus and includes two new bridges: one over State Route 101, a controlled access freeway; and one over the Tempe Canal, a major water supply route. Unique challenges included archeological finds, utility relocations, heavy traffic and constructing a bridge above final grade, then lowering it to final design elevation. The project was completed ahead of schedule and opened for service in December.
HDR is an employee-owned architectural, engineering and consulting firm with more than 7,700 professionals in more than 165 locations worldwide. All of them are committed to helping clients manage complex projects and make sound decisions.