RESTON, VA. — The American Society of Civil Engineers (ASCE) has announced that the Sutong Bridge in Nantong City, Jiangsu Province, China has won the 2010 Outstanding Civil Engineering Achievement award (OCEA).
The Sutong Bridge, which spans the Yangtze River in China's Jiangsu province, is the world's longest cable-stayed bridge. With a main span measuring 1,088 meters, it is the first cable-stayed bridge with a span that passes the 1,000 meter mark. The bridge also has two side-spans that are 300 meters, as well as four smaller cable spans.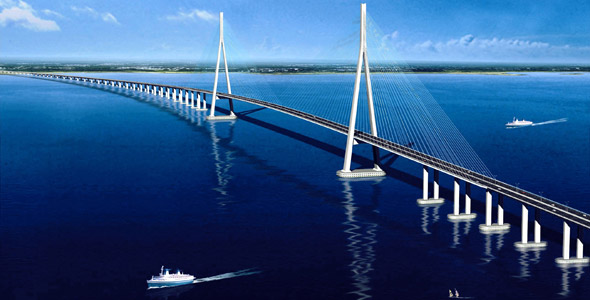 The bridge provides a vital link between the cities of Suzhou and Nantong in Jiangsu province. It dramatically reduces the journey between Suzhou and Nantong — which used to require a four-hour ferry trip — to just an hour.
In addition to its record-setting length, the bridge's construction included a number of significant achievements. Its two pylon foundations — each founded on 131 piles, were the largest ever attempted, and, the 300-meter bridge pylons were the tallest ever constructed. Additionally, the 577-meter-long stayed cables were the longest ever manufactured.
Established in 1960, the OCEA program recognizes projects from around the world for their contributions to the well-being of people and communities, their resourcefulness in planning and design challenges, and their innovative use of materials and techniques. The other finalists were:
The Arrowhead Tunnels Project — Inland Feeder Program, San Bernardino, Calif.
The Concordia University Wisconsin Lakeshore Environmental Enhancement and Education Project, Mequon, Wis.
The Sound Transit Central Link Light Rail: Section 710 Beacon Hill Station and Tunnels, Seattle, Wash.
The Utah State Capitol Seismic Base Isolation and Restoration, Salt Lake City, Utah
Founded in 1852, the American Society of Civil Engineers represents more than 144,000 civil engineers worldwide and is America's oldest national engineering society. For more information, visit www.asce.org.
###